Exclusive gamerhub.co.uk Article Series
After 25 years of media silence, Stewart Waterson is finally ready to reveal what happened behind-the-scenes of the original Grand Theft Auto.
Over the next few months we will be sharing previously unheard anecdotes, secrets, and images. With topics ranging from Map Design to Mobsters & Movie Stars.
Welcome to the first article of the series, as Stewart explores entering the gaming industry, joining the GTA team, and successfully co-conspiring to sneak in some franchise-defining mayhem.
'It's been 25 years, and I don't think the story's been told yet.' – Stewart Waterson
"I wasn't a heavy gamer at all. It was my friends that were the gamers. I very luckily fell into designing games. Working on games wasn't something that I thought I could do, or even knew I wanted to.
A couple of friends asked me to help them with some work for an art exhibition, located in a small gallery above a pub in Edinburgh. I hustled and managed to pull some work together in time. The Art Director from DMA Design (currently Rockstar North Limited), David 'Oz' Osborne, happened to be there and saw my work. He asked if the guy who did 'all the weird shit' would come over for an interview. I jumped at the chance, and became employee number 30 at DMA Design by the end of 1993.
Back then DMA Design had already released a few games and had a very strong gaming culture. If people weren't making games then they were playing them, talking about them, or reading reviews in magazines about upcoming titles or new trends.
I'd left school a few years previously with a C in Art and zero computer knowledge, so they put me in front of an Amiga (an early PC) with an art package called D Paint. A few colleagues ran me through the basics by showing me their work, games of note, tips, tricks, and ideas on reference materials. That was the training.
To be honest, it had a real sense of if you could impress these guys you were doing something right. I had to learn from how to switch on the blinking machine to tackling each new skill package-by-package. Whether it was 2D graphics, animating objects, creating characters, building levels, testing the game, everything was learnt by jumping in and doing it.
There was no formal training at all, apart from the software tutorials that were packaged with each new piece of software you had to learn. You could ask for help, but the development teams… How do I say this diplomatically? It was everybody grabbing what they could for notoriety, respect, and excellence. It was a very very fast river, and it was sink or swim.
The first game I worked on was Lemmings 3. I had to learn all aspects of my role as a 2D Artist & Animator (and key elements of game design) on the production floor. It took about a year to finish that game, working by trial-and-error on one of early gaming's most established franchises. That experience taught me a lot about how games were constructed.
After Lemmings 3, the next project to start was a racing game called Race'n'Chase. I joined the team raring to go with some key knowledge on the 'do's & don'ts', all learned the hard way. But more importantly, I now knew how to put together the type of shit I wanted to play.
I was the first artist on the project, in charge of designing, modelling and rendering the 3D vehicles, as well as the 3D animation of characters and pedestrians. I was involved in a number of key game design features, which the game was built on and still feature to this day.
Race'n'Chase was never meant to be a game about criminality. It was a driving game with various game modes like Race, Cops and Robbers, and Demolition Derby.
Myself and Ian Johnson, a new coder on the team and my flatmate at the time, fixated on the idea of the character being a getaway driver. It was then that the concept of criminality as a game mechanic really struck me.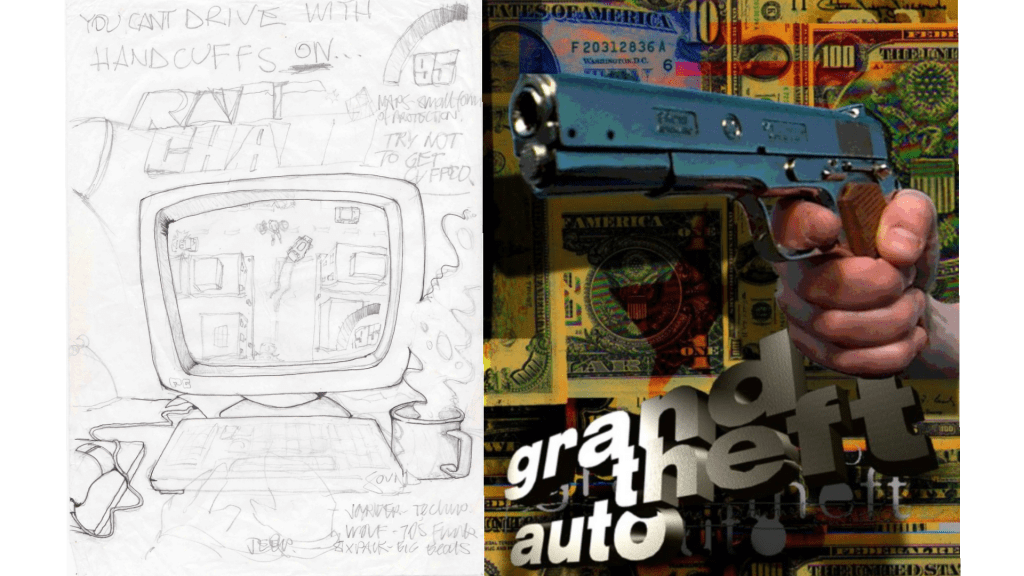 I have a rough sketch that I devised for the game back in 1995 (above left). It's a drawing of a PC with a DMA cup and mouse mat beside it, with 'Race'n'Chase' on the screen and the strapline "You can't drive with handcuffs on". In the corner it has the music genre ideas for it, which is 'Joy Rider – Techno, Big Beat & 70's Funk', and other radio stations.
Whilst working myself and the other artist would listen to a huge amount of Hip Hop and Gangsta Rap like Wu-Tang Clan, Ice-T and Public Enemy. The team would swap CDs and be listening to things like Leftfield, The Chemical Brothers, and Underworld. We didn't realise it at the time, but we were influencing and building the foundations for GTA's radio stations one tune at a time.
My focus was: "Fuck. I've got a chance to make a game here that is actually what I want to play, what I want to make, and what I knew my friends wanted to play as well."
We'd all previously worked together on another game and had the same project lead, Keith Hamilton, who saw me as a bit of a wild card. Myself, and a fair few others on the team, had jumped on the idea of criminality and there was a design team, run by Dave Jones, that would pitch suggestions and influences… which were largely ignored or challenged.
'Wouldn't it be good if you could play as a cop?'
'No.'
'Wouldn't it be good if you didn't just play as a baddie?'
'No'
'Undercover c–?'
'Nope.'
A lot of 'nos', and a lot of 'we know better'.
But did they really?
My tongue-in-cheek title for the game was 'Get In. Get Out. Start Fucking About.' And that's what we kept building on top of, and yeah, we had to toe the line and make it mission specific or build missions to justify the content we had created. Initially, we just kept on coming up with ideas and implementing them.
Obviously, we had to do a progression curve. We had to unlock types of cars. But whilst we had to conform to some accepted norms in game design, that core kernel of absolute mayhem – wanton destruction – was forced into the game by the teams who controlled those key parts. We would fight to try and get a chance to make it happen, and if it got turned down, we'd just fucking do it anyway.
As soon as you could hijack a car everyone started committing grand theft auto. And that was the beautiful chaos, trying to find the biggest and fastest vehicles. We pushed it from being as it was intended, little computer people driving along, to now 'this is going to be utter carnage'.
I think one of the key turning points was when Ian and I joked about tanks being in the game. It was so ludicrous. There was no reason for them. There was no concept behind their involvement, apart from that they are almost indestructible, highly dangerous, and a load of fun to smash stuff with.
Over the space of a lunchtime trip to Tesco we'd decided it had to be done, and started mapping out our plan. The premise was that there was a vehicle code that we could use, and there was also a ballistics code that allowed a rotating pedestrian to shoot bullets in eight directions. Our idea was that if you put a pedestrian on top of a car, and made the car go slower and massively increased the damage of the bullets, then you've got a basic version of a tank.
That day we decided to stay a little late, we were normally away from the office very early, like on the button at five o'clock. And our project lead Keith Hamilton, who was aware of our tinkering… well, our propensity for tinkering constantly with things. I was worried when he left and said "Are you guys not going home?" Ian told him he was going to fix some bugs in his code, and I was adding a few textures into the game. He left, looking back a little bit sheepishly, quite worried that we were still at work. But he left, and we set about it.
I modelled the base for the tank and tracks in 3D, and textured it with camouflage using Alias Wavefront on a Silicon Graphics machine. Then I set about building the turret. The turret was like a player character sat on top of a car that could move independently, allowing the player to drive the vehicle, aim the turret, and fire.
We decided to put it into the game, and had a quick play with it in the building before we left to go home. After taking turns blowing up cars and pedestrians, we were just like; "Yas! This is fucking brilliant. It's insane, but we're going to get our asses kicked for this tomorrow." We both grinned, said 'Fuck it!', added it to the code, and left laughing, looking forward to the reactions of our team mates the next day.
When we arrived back at the office a little earlier than usual the next day, there was quite a lot of noise to be heard from our team's area in the open plan office. A bunch of testers and team mates who had gotten in early were playing with the tanks. And they were having an absolute blast, literally.
So when Keith arrived at the office at 9am, he saw all of the commotion and immediately swivelled to look at myself and Johnson, who were sat beside each other. He was like, "What have yous done?"… and we were like, "Ehhh… we put tanks in the game. Sorry."
And that was that, they were never getting taken back out because they were so much fun.
Tanks were in to stay."
Mission Passed! Thank you for completing the first GTA article +
'Mobsters and Movie Stars', the next instalment of this exclusive series, will go live on Friday the 24th of December. Discover the reasons behind many of Grand Theft Auto's most loved features, and the true events that inspired them.
If you have any questions for Stewart Waterson, please add them to the comments section below for a chance to be featured in the upcoming Public Q&A Article.
Be sure to also check out William's brilliant article on gaming veteran Stewart Gilray (CEO & Founder of @jawltd) to learn how he started his career, built his first company, and became an award-winning developer.
Ready to Level up! in your career? With many years working within Video Games and Digital Sectors, Special Move can take your career to the next level! Whether you're looking for a new opportunity now, or would like to speak with the right people to help you plan out your next move, visit www.specialmove.com to browse available roles, upload your CV and set your dream job alerts!